Almost 400 rural leaders from every corner of the state descended on the Gateway Hotel and Conference Center at Iowa State University April 12-13, 2022, for the 6th annual Iowa Rural Summit.
It featured keynote addresses from two powerful speakers. Former rural hospital CEO and rural health care advocate Benjamin Anderson discussed strategies for improving the interactions between rural residents and making those places more open, inclusive, and diverse. Algona-based motivational speaker Brenda Clark Hamilton talked the importance of leadership, strong leaders, and the need to constantly work to recruit and train new leaders.
In addition, the Summit was a chance to recognize a group of remarkable rural leaders, who were presented the inaugural Rand Fisher Rural Leadership Award, sponsored by IADG Community Foundation.  The honor recognizes long-time IADG CEO and IRDC Vice-Chair Rand Fisher.
The honorees last year were Mickey Anderson, Stanton; Chris Deal, Jefferson; Maureen Elbert, Algona; Deb Lucht, Minburn; Joe Sorenson, Des Moines, and Jim & Julie Vermeer, Spencer.
Click for Rural Summit 2023 Agenda Basic_2.0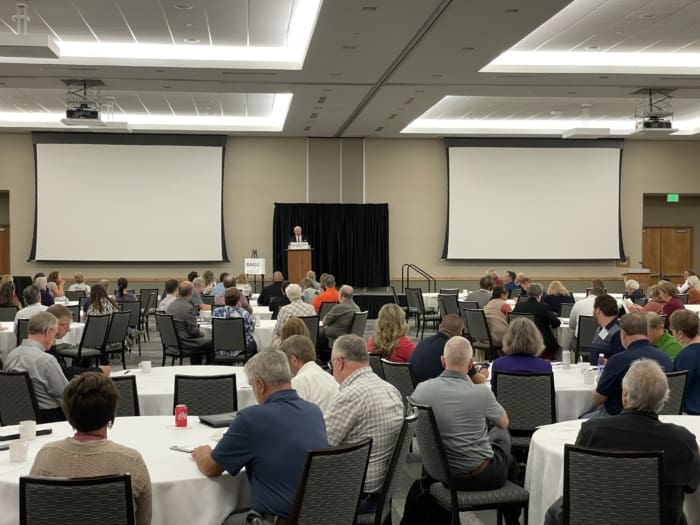 Summit Highlights from Iowa Rural Summit 2022
Place and Attitude Matter in Rural Communities
Innovative Ag Tech Efforts Thrive in Rural Iowa
New Ideas for Bringing Hotels to Small Towns
2020 Census Brings Opportunity, Challenge to Rural Iowa
Leading Rural Development Means Being an "Influencer"
Summit Sponsors